Skip to Content
Answers to Your Questions About Dental Implants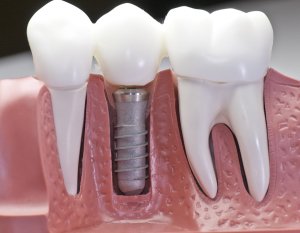 It is true that dentists near Peoria perform dental implant treatments on a routine basis, but it is also reasonable to have questions about a surgical procedure that you may experience in your near future.This safe and effective cosmetic dentistry procedure seeks to restore both the function and the appearance of your smile. Here is a brief look at the answers to some of your questions about dental implants.
Am I Eligible for Dental Implants?
Although the procedure itself typically goes off without a hitch, not everyone is eligible for dental implants. The only way to find out for sure if this procedure is right for you is to meet with your dentist for a consultation. At this point he or she can explain the details of the procedure and ask you about your medical history. A good candidate for dental implants has plenty of jawbone mass to receive the surgical implant. If you hope to receive dental implants, you should also have healthy gums and good oral health in general; conditions such as periodontal disease may reduce your eligibility for this kind of treatment.
How Many Teeth Can I Replace?
Dental implants are advantageous in that they can treat a number of problems. If you are missing a single tooth and concerned with your neighboring teeth, you can use a dental implant as a placeholder. This will keep your surrounding teeth in place and help retain bone mass. If you are missing several teeth in the same area, this point becomes more important. Individuals who are missing all of their teeth may also consider dental implants as an alternative to traditional dentures. Implants will not shift around or fall out of your mouth, as they are permanently installed in your jawbone.
How Should I Maintain My Implants?
Once you have received your new implants you should take care of them in the same way that you would take care of your natural teeth. Combat plaque and bacteria by brushing your teeth twice each day. You should also floss every day and visit your dentist on a routine basis for regular checkups.